Life Happens. Plan for it.
As your financial life grows and becomes more complex our planning and investment strategies grow with you. Get objective advice advice from a CERTIFIED FINANCIAL PLANNER™ professional and build a plan with the right investments to reach your life goals.
Our approach to financial planning begins with your current stage of life. We work with you to identify and prioritize your financial goals. From there, we analyze the strategies with the greatest likelihood of success and establish a list of actionable steps to get you there. We'll even help implement your plan.
We also know that financial planning is never one-and-done. Life happens and even the best financial plans can require adjustments over time. That's why as an investment advisory client, we continue monitoring your plan making adjustments for what's ahead keeping you on track toward a lifetime of financial success.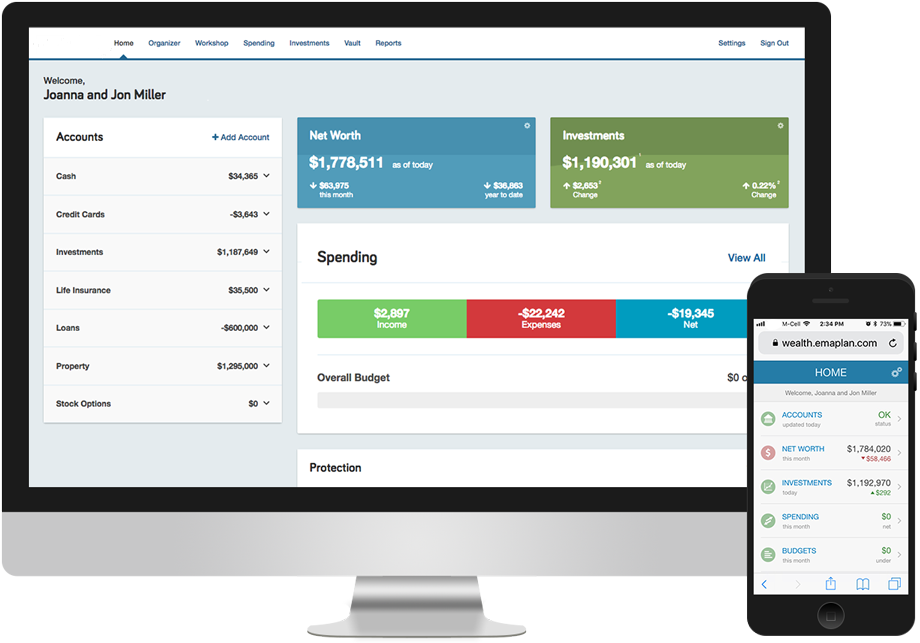 Personal Financial Website
Get insight from anywhere with your own personal financial website. Our client-ready smart technology gives you the power to organize your enitre financial life into a single online dashboard. View all of your investments, track progress toward your financial goals, analyze your spending habits, and securely store important financial documents all from your favorite mobile device.

Legacy Plans
Our most comprehensive planning service. Ideal for clients preparing for retirement. Planning areas typically include all of the Growth Plan services, plus:
Social Security Optimization
Medicare Review and Enrollment
Retirement Income and Cash Flow Projections
Tax-Smart Withdrawal Strategies
Estate and Gifting Planning


​Growth Plans
Our advanced goals planning service. Ideal for clients with growing financial needs. Planning areas typically include all of the Starter Plan services, plus:
Investment Planning
(Including your 401k or other employer retirement plans)
Education Savings Strategies
Tax Projections and Planning
Beneficiary Review and Estate Analysis


Starter Plans
Our quick start planning service. Ideal for clients just starting out. Planning areas typically include:
Identifying Your Financial Goals
Pesonal Cash Flow Analysis
Debt Reduction Strategies
Student Loan Repayment Strategies
Insurance Planning
Employer Benefits Review
---